The ForeverSafe™ Cemetery Vase product line also features a complete Vase & Canister set for individuals wanting to add to a marker or memorial as an alternative to the Bronze and other precious materials. Not only does the high quality, polyethylene finish look tremendous with the memorial, but the heavy duty polymer construction is a theft deterrent, as they are looking for the metal replacements to steal for scrap values. Like other cemetery vases, the ForeverSafe Cemetery Flower Vase turns down in its respective canister just like others manufacturers!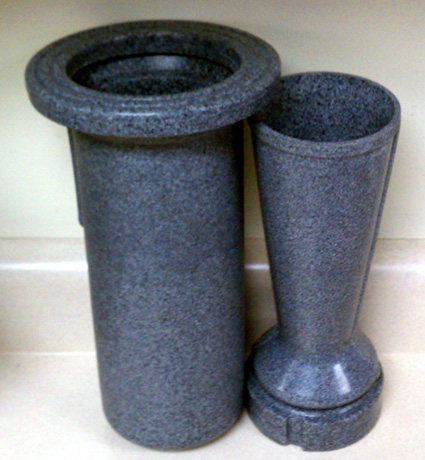 Cemetery Vase & Canister Set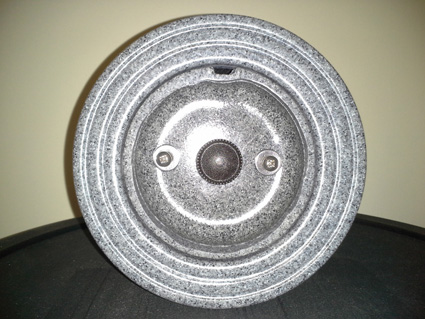 ForeverSafe Cemetery Vase turned down in canister
Incorporate the ForeverSafe Vase & Canister set into a new memorial, marker or headstone and rest assured that theft deterrent polymer construction will deter the potential theft of the vase, as it is precious metals the theives are looking for to sell off for scrap metals. The attractive colors, metallics and finishes mimic cemetery vases manufactured from other materials, but offer durable polymer construction manufactured via the rotomolding process.
The ForeverSafe Vase & Canister Sets are perfect for for:
Adding an affordable vase & canister set to memorial
Replacing a stolen vase
Memorial use outside of cemetery
Vase and Canister Set Features
Made from high quality Polyethylene
0.25 inches wall thickness
Available in granite-like and metallic finishes
Finishes to match many headstones, markers and memorials
Non-porous
Impervious to weather conditions
More affordable than metal counterparts
Has matching cremation urns and burial urns (available in round and rectangle shapes)
Matching Cremation & Burial Urns available in Round & Rectangle
| | |
| --- | --- |
| Terra Cotta Granite Round Urn & Vase | Brown Granite Rectangle Urn |
All Vases available with matching Urns
Watch in the video above as a ForeverSafe Cemetery vase intentionally encounters a weed eater! See how the durable cemetery flower vase stands up the the abuse of a weed easter, but is hardly damaged at all. ForeverSafe Cemetery Vases, the beautiful, durable theft deterrent option!
Other Vase Options
"Thanks so much for the good service! The vase is working out well! After my parents vases were stolen, we didn't know what to do about preventing furture theft, then we found you guys!"