The ForeverSafe Occasional Vase Collection is a line of spiked or staked cemetery vases that offer durability as well as beauty, while providing a reusable cemetery flower vase that is designed for a multitude of uses. The Occasional Vase is ideal for individuals looking for a cemetery vase product that is simple and inexpensive for their loved ones memorial! No digging holes required, simply screw in the metal stake and insert in the cemetery vase into the ground. No additional canister required!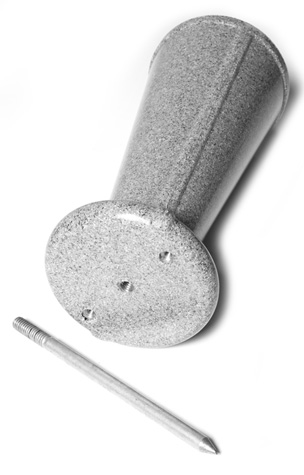 While various socio-economic issues continue to plague many cities and rural areas, cemetery's continue to be a soft target for theives who are actively stealing various items from cemeteries all across including cemetery vases, bronze markers and so much more. plaguing a wide range of communities all abroad, The ForeverSafe Replacement Cemetery Flower Vase provides a durable theft deterrent alternative that allows you to bring flower forever with ForeverSafe!
The Occasional Cemetery Vase is ideal for
Replacing a stolen cemetery vase
Adding a cemetery flower vase to existing memorial or headstone without needing an additional cannister.
Memorial use outside of cemetery
Short term memorialization
Weddings, reunions, etc.
The beautiful, yet durable construction of the cemetery vases make the ForeverSafe Cemetery Vases an affordable replacement vase option for family and friends wanting to bring flowers to a loved ones grave or memorial. The rotomolding process provides an attractive durable product that is virtually impervious to all weather conditions.
| | |
| --- | --- |
| Detail shot of spike attachment | Spike attached to Occasional Vase |
Occasional Vase Features
Made from high quality Polyethylene
0.25 inches wall thickness
Available in granite-like and metallic finishes
Aluminum plate to fit most existing manufacturers
Non-porous
Impervious to weather conditions
More affordable than metal counterparts
Has matching cremation urns and burial urns (available in round and rectangle shapes)
Matching Cremation & Burial Urns available in Round & Rectangle
| | |
| --- | --- |
| Terra Cotta Granite Round Urn & Vase | Brown Granite Rectangle Urn |
All Vases available with matching Urns
Watch in the video above as a ForeverSafe Cemetery vase intentionally encounters a weed eater! See how the durable cemetery flower vase stands up the the abuse of a weed easter, but is hardly damaged at all. ForeverSafe Cemetery Vases, the beautiful, durable theft deterrent option!
Other Vase Options
"Thanks so much for the good service! The vase is working out well! After my parents vases were stolen, we didn't know what to do about preventing furture theft, then we found you guys!"