ForeverSafe™ Burial Urns offer security for your loved ones without the sacrifice of beauty. The custom granite-like and metallic finishes match and blend well with many of the more common headstones and memorials. Our granite-like finishes are offered in several attractive colors, such as grey-granite and terra cotta granite options, while the others contain a metallic like effect such as Antique and Mahogany. With it's beautiful yet durable, water tight rotationally molded construction, the ForeverSafe™ Cremation Urn is sure to exceed a customers expectations.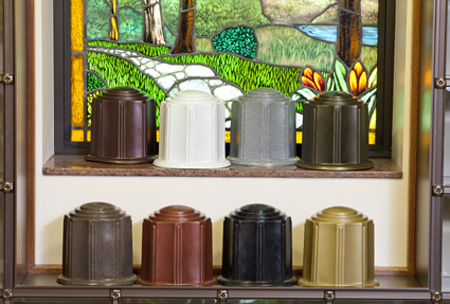 ForeverSafe Cremation Urns
Strength in life is a cherished quality in people. If a strong shape for remembrance is suitable for someone you love, the ForeverSafe™ Rectangle Burial Urns will be as strong on the outside as it is on the inside. Polyethylene is relied on to make products that are exposed to destructive elements. There is value in knowing that the burial urn protecting your loved one is protected by that same durability. Protect the one who protected you. Be strong with ForeverSafe™.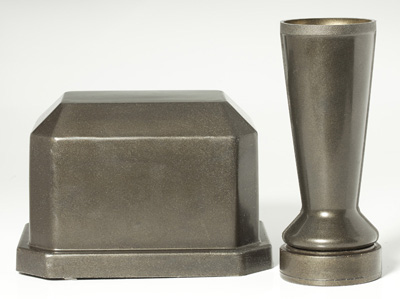 Incorporate the ForeverSafe™ Urn into a new memorial, marker or niche and rest assured that theft deterrent polymer construction will deter the potential theft of the urn, as it is precious metals the theives are looking for to sell off for scrap metals. The attractive colors, metallics and finishes mimic cemetery products manufactured from other materials, but offer durable polymer construction manufactured via the rotomolding process.
Burial Urn Features
Made from high quality Polyethylene
0.300 inches wall thickness
Available in granite-like and metallic finishes
Includes 8 molded in threaded inserts and stainless steel security screws
Includes neoprene gasket and anodized aluminum plate
Waterproof (please see video demonstration below)
Plastic material deters urn from theft unlike metal counterparts
May be used to for housing cremains and for burial without additional vault
231 lb. healthy weight capacity
Non-porous
Impervious to weather conditions
More affordable than metal counterparts
Has matching cemetery vases available.
Cremation Urn Image Gallery
Click on any of the Urns images below to open a larger image
| | | | |
| --- | --- | --- | --- |
| White Granite Urn & Vase Canister Set | Terra Cotta Granite Urn & Vase Set | Mahogany Urn & Vase Set | Black Granite Urn & Vase Set |
| Grey Granite Urn & Vase Set | Brown Granite Urn & Vase Set | Antiqued Urn & Vase Set | Bronze Urn & Vase Set |
Cremation & Burial Urns available in Round & Rectangle
| | |
| --- | --- |
| Terra Cotta Granite Round Urn & Vase | Brown Granite Rectangle Urn |
All Urns available with matching Vases
Water Tight Urn Video
Watch in the video above as a ForeverSafe Cremation Urn is submerged in a container of water and left for a weekend to see if it takes on water. See how the durable, water tight burial urn stays submerged, doesn't take on water and is opened up at the end!
Urn Weight Load Testing Video
Watch in the Urn weight load testing video above how a 3 pound cremation urn supported a 5,000 pound forklift!
"Thanks so much for the good service! The vase is working out well! After my parents vases were stolen, we didn't know what to do about preventing furture theft, then we found you guys!"