The ForeverSafe Cemetery Vases are not just the usual vases you see in the market today. They are made of high quality, theft deterrent materials that are not only beautiful but are also made to last. The vase is made of polyethylene, a strong and sturdy type of plastic. Aesthetically, it does not have any difference compared to metal markers because these cemetery flower vases can have a metallic finish too. Aside from metal looks, these vases can also be available in granite-like finishes. Hence, they can blend in common memorials and headstones. The cemetery vases are offered in multiple configurations including:
Across the country, cemetery theft continues to be a growing problem, plaguing various communities. Being an easy target, many cemeteries are experiencing an unfavorable increase in theft and destruction. One of the more commonly sought after targest are cemetery flower vases, as they are relatively smaller in size and hold value as most theives are simply selling the metals for scrap value. The ForeverSafe Replacement Cemetery Flower Vase offers a theft deterrent alternative to its metal counterparts. Manufactured via the rotomolding process, the vases offer beautiful, long lasting construction that is impervious to weather conditions and environmental elements. Offered with bases to fit most major cemetery vase manufacturers canisters, the ForeverSafe Replacement vase is your best choice for a beautiful, durable replacement cemetery vase. Learn more about ForeverSafe Replacement Cemetery Vases by clicking the link below.

The ForeverSafe Occasional Vase is a line of staked cemetery vases that provide durability and beauty, while providing a re-usable staked vase option that is designed for multiple uses. The occasional vase is capable of standing alone in service with the requirements of a buried canister. Offering an immediate solution to a vase need, the occasional vase aides in providing a uniform look to your loved ones memorials without sacrificing beauty or durability. Without the requirements of a buried canister, the occasional vase can be used nearly anywhere a spike or stake can be inserted into the ground near a headstone or other memorials. Learn more about the ForeverSafe Occasional Vase by clicking the link below.

The ForeverSafe Cemetery Vase product line has a complete line of Vase & Canister sets for new memorials, headstones and grave sites. These bronze and precious metals alternatives offer theft deterrent polyethylene construction and durable, beautiful colors and finishes. Learn more about the affordable, theft deterrent vase & canister sets by clicking the link below: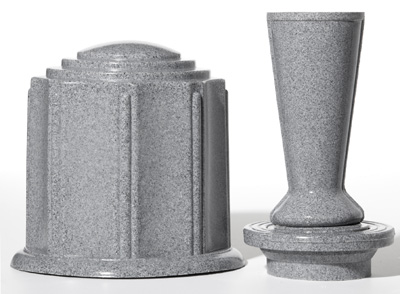 "Thanks so much for the good service! The vase is working out well! After my parents vases were stolen, we didn't know what to do about preventing furture theft, then we found you guys!"